DTS 8.08.12 and XENTRY 3/2019 connection help:
DTS version 8.08.12
Xentry version 3/2019
You have to install DTS Monaco inside the Xentry Connect SSD, connect using Remote Desktop Connect if you have the Servicing or Star Password. Else you have to reset the windows password and set a new one to be able to connect.
 
Good to know:
New DTS Monaco 8.13.029 full API developer kit
xentry 3.2019 with eCOM working..  DoIP !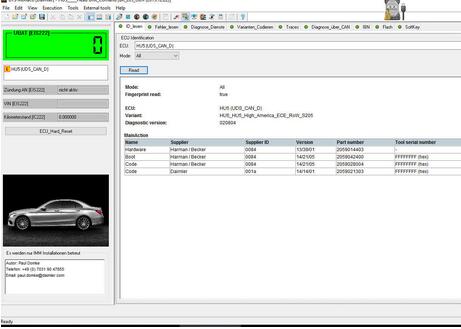 Seems Bosch VCI its still not ready on this version for CBF!
On request some special project… like w177.. hu6 .. newer cars.
BTW…  works with ANY HW (also clone) supported by DTS.
Here is eCOM with Xentry with test on DoIP!
eCOM_xentry_doip
Here some pictures testing VXDIAG with HU55 and DoIP
VXDIAG-DOIP-DTS
VXDIAG-DOIP-HU55
Reference:
Possible codings in certain carlines (updated in 05.2018)
2.0.1 R171 – SLK
2.0.2 R230 – SL
2.0.3 R172 SLK – R231 SL
2.0.4 W203 S203 CLC W463
2.0.5 W204 S204 X204
2.0.6 w205 s205 x253
2.0.7 W211 S211 W219 W209
2.0.8 W218 X218
2.0.9 W212 S212 A207 C207
2.0.10 W213
2.0.11 W176 W246 W117 C117 X117 X156
2.0.12 W251 W164 X164
2.0.13 W166 X166 W292
2.0.14 W221 W216
2.0.15 W222 W217
2.0.16 W447
2.0.17 639
2.38 Trunk lid key closing
2.38.1 W212 and others
2.38.2 W221
2.38.3 Normalization of trunk lid
2.40 DLR – Change daylight color into blue
2.41 Activate EDW – Alarm system (software) – Basic by horn
2.42 IC scale at day bright – w212 facelift
5.10 Delete crashevents
6.3 W169 / W 245 Speedlimiter
6.5 W176 folding mirrors
6.6. 205 Keyless Go entry
6.7 SLA-GLA-TSA Speedlimit assist for certain carlines – Possible? what is needed?
6.7.1 Coding – just mentioning ECUs
7.3 Telematik disks (user for user)
7.4 original ECOM (user for user)