MS908SP is the MS908P update version. Autel MS908S Pro can replace Maxisys MS908P. MS908S Pro comes with Autel Maxiflash Elite J2534 ECU Programming Device also. Autel MS908SP also offering 2 years free update. For more details about Maxisys MS908S Pro, welcome to contact our sales.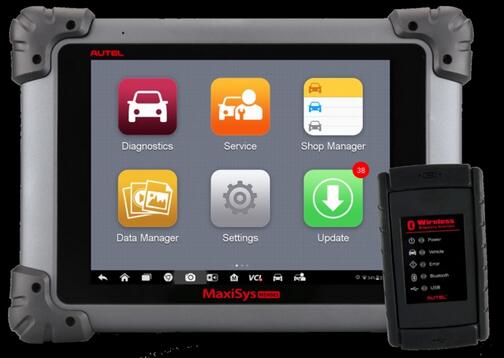 Features & Benefits:
*   Advanced Automotive Diagnostic Tablet
*   9.7-inch Wireless touchscreen Android Tablet
*   Wireless Bluetooth Vehicle Communication Interface (VCI)/J2534 Pass-Thru Programming Device
*   1.3 Hexa-core Processor, 64 gigabytes memory, rechargeable lithium-ion battery for 15.5 hrs. of continuous use
*   AutoVIn and AutoScan Technologies

The Autel Diagnostic Scanner MS908S Diagnostic Scan Tool is designed to be easy to use and offers double internal 64G of memory. Notable features include: 4.4.2 Android OS operating system; 8 MP camera; two USB ports; one-year warranty; and one year of free updates. This tool is also available as MS908SP, which offers the same features and includes MaxiFlash Elite, a J2534 ECU Pass-Thru programming device with an Internal Bluetooth VCI.
One of the MaxiSys series devices on Obd2tool.com, the MS908S Pro Diagnostic Platform bases on the revolutionary Android multitasking operating system, utilizes the powerful Cortex A7+A15 six-core processor, and equips with 9.7-inch LED capacitive touch screen. Supporting J2534 ECU Programming Device is capable of replacing the existing software/firmware in the Electronic Control Units (ECU), programming new ECUs and fixing software-controlled drivability issues and emission issues. MS908S Pro is an ideal tool for a truly trouble-free diagnosis of a maintenance plant by quickly, efficiently and effectively diagnosing automotive faults, managing customer data, and standardizing business processes.