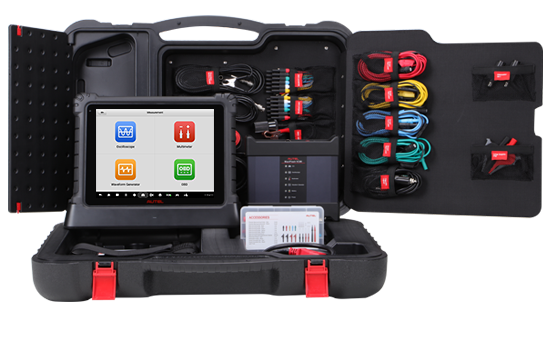 Autel US is proud to announce the release of its largest, most powerful and most solution-driven automotive diagnostics tablet in its history, the MaxiSYS Ultra.
The Ultra is an impressive 12.9-inch, touchscreen tablet powered by an Octa-core processor (2.3GHz Quad + 1.7GHz Quad) with substantial 256GB built-in memory and features the MaxiFlash VCMI, a 5-in-1 communication and testing tool providing wireless vehicle communications between the vehicle and tablet and supporting the latest DoIP, D-PDU and Mega CAN vehicle communication protocols. The dynamic VCMI also functions as a 4-channel oscilloscope, waveform generator, multimeter and CanBUS tester.
The Ultra features a rechargeable Lithium battery proving 8 hours of continues use, a convenient docking station and front and rear cameras.
"It is with great enthusiasm and pride that Autel is releasing the MaxiSYS Ultra to North America. The Ultra is the realization of Autel's desire to merge advanced hardware and powerful diagnostics with immediate access to almost limitless analysis and repair information into one inspiring solution. Truly, it is what the industry has been waiting for and its release will mark a new paradigm for which others can only hope to follow, "said Frank Li, President of Autel.
autel maxisys ultra