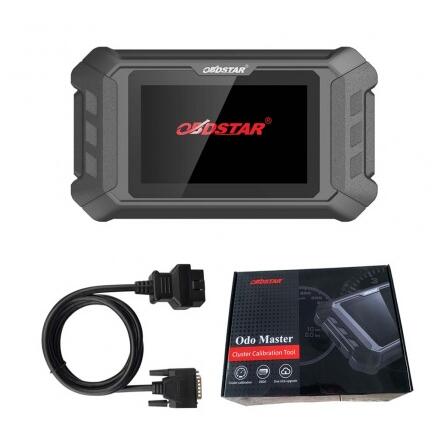 Q: Can Odo Master support odo adjustment for w205 c200 2015?
A: Mostly it can, but sometimes it may fail to recognize the version with small probability.
Q: Is Odo Master able to work on North American Dodge Charger, Challenger and RAM (before 2020) for mileage correction via OBD?
A: It works okay on these cars produced in 2018 or 2019 year, but not totally sure about 2020 year. You can give it a shot.
Q: Will X300M support 2017 Mazda CX-5 odometer adjustment?
A: I'm afraid not, but odomaster supports.
Q: Does X300M work on mazda 2013 CX-5?
A: It might works, but I strongly recommend odomaster.
Q: Can Odo Master support 2015 Renault Trafic (Mark 3) 1.6DCI 115 commercial diesel van odometer/mileage correction?
A: Yes, it can.
Q: Does obdstar odomaster adjust mileage for the following cars without disassembling dash?
Mercedes W169 2012
Opel Insignia 2010
Citroen C3 2012
A: It supports Opel Insignia 2010, but not for Citroen C3 2012. As for Mercedes W169 2012, it works in most cases.
Q: Can odomaster program mileage via OBD for 2013 Dodge Ram?
A: Yes, it's been confirmed.
Q: Does Odomaster standard version support 2009 Mercedes Benz SL550, R230 chassis odometer adjustment via OBD2?
A: Sorry, it doesn't.
Q: Will odomaster reset odometer on golf 7 audi from 2015 MQB?
A: Yes, it will.
Q: Does this work on a 2017 Ford F-150?
A: Yes, it does.
Q: Can i change odometer on a Hyundai Elantra 2018 with the Odomaster?
A: Yes, you can.
Q: Does it work on renault clio 2017 diesel?
A: Yes, it does.
Q: Had calibration failure error when correct odometer on a 2013 Ford F-150 by odo master??
A: Odomaster supports following F-150 , make sure your 2013 model type is SPC5604, otherwise it will not work.
2017 SPC5645
2015-
SPC5606
SPC5645
2011-
2013 SPC5604
2006-2007
Q: Can i adjust mileage for 2015-2020 Dodge Charger?
A: The Odometer Correction Tool Odomaster supports following Charger :
Charger
2018-
2016-
2015 (D70F3525)
2011-
2004-
Q: Can this do Australian model Mercedes Benz V class 2015-2018?
A: No, it cannot.
Q: Will odomaster change mileage for these cars: 2019 Toyota Sienna, 2015 Toyota Camry Hybrid AVV50R?
A: No, it will not. .
Q: Will odomaster reset mileage on a Ford Mondeo 2015 via OBD?
A: It supports 2015 Mondeo with type SPC5645S + 93C86 and New Mondeo 2015- Monochrome screen.