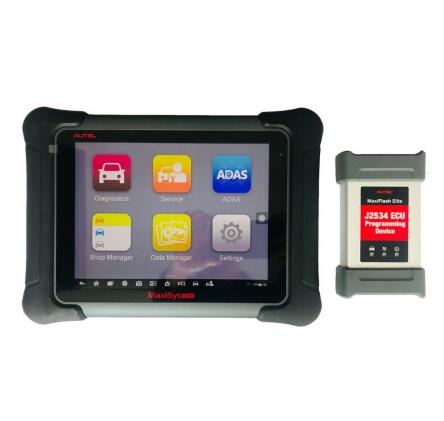 This post collected some common problems when working Autel Maxisys Elite and help you to solve.
Q:Updating MaxiFlash Elite to firmware 3.21, My maxisys communicate with the MaxiFlash J2534 but Maxiflash elite can not communicate with any cars!
A:To resolve this problem, go to www.auteltech.com and go support and updates.
Q:I'm trying to program BMW car and I can  All the hardware are done.
A:You still need to within your free update period, you need a good WIFI connection to your network and internet from your work area, and Autel's server to access what programming and advanced coding that is available for the year, make, model, and module of the BMW.
Q:I may be silly here but my maxisys elite has NO Ethernet port for BMW programming. I have looked all over the tablet. The only ports I have are 2 x usb, hdmi, otg, headphone and power.
A:1. Yes Autel has a separate adapter for it. You need to purchase it separately.
2.You can buy any Android compatible ethernet-USB adapter from any place. But you have to be sure that works with Android, because if the adapter is just for PC it will not work with the tablet.
Q:How to programming the vehicle modules?
A:Autel MaxiSys Elite /Autel MaxiSys Pro MS908P can only support to program BMW and Benz. You can refer to http://www.autel.com/u/cms/www/201501/282132017pvy.pdf
Q:My Maxisys EliteMultitask will not turn on.
A:You need to go to System Setting->App Switcher, please select it.
Q:I cannot get my MaxiSys Eliteto send reports or anything with the email option. It also do not want to print to my wireless HP Deskjet 4645 although i pick it up. I have my Maxisys running from my iPad hotspot.
A:What's your system version? Please go to Maxisys-Update to download all the latest system version and try again. Our current version can't support to Wi-Fi printer, so you need to install Maxisys PC link in your PC to print the doc out.
Q:I can't find the vehicles that coveraged by maxisys elite in the website.I need to buy this device but first I need to know the vehicles covered.
A:Function list here: http://pro.auteltech.com/measurecar-1-1.html?m=4
Q:I have problem with latest Benz update, installation bar goes up to 50% and give message installation error, there is no app Benz in uninstall section.
A:Please check and see is there a benz folder under below path: "ES files EXPLORER—-scan—vehicle–Europe—–Benz". If there is one, please delete it. Also delete it if you find one under "ES files EXPLORER—scan—download" and "Maxisys—data manager—Apps Uninstall". Then restart Maxisys elite and re-load and install the Benz software.
Q:How to program key for my car?
A:Try the following:IMMO -> 1.Immobilizer Setup -> Add and Delete Keys
10. Q:Which is the activation code because I don't have it please.
A:Do you mean the register code? You can find it on Maxisys-About page.
11. Q:How I can used e-mail sending by max?
A: There is an Email app pre-installed in Maxisys, marked in red below. You can set your email account step by step.
12. Q:We just recieved our Maxisys Elite WQ8MAXISYSELITE, but when we try to register it, it says that the product does not exist.
A:As for your case, please register your device in our website as following steps:
1.Log in our website http://pro.auteltech.com/ with your ID and password.
2.Please click "Product Registration". Select your product model, fill in the serial No. and register password to finish the registration. As for the serial No. and register password, you can Please touch "About" in the tool, and you will find them.
PS: Please select the right product model and fill in the right register password which can be checked in About page.
13. Q:I am using Autel Maxisys Elite, and the internal memory almost full. I bought a SD card (32GB), how can I do that new updates will be written into SD card, not internal memory?
A:This tool can't accept external SD card to install vehicle software. It is suggested you format the SD card and download BMW, Benz, VW, which has big size first. Then you can download other vehicles.
https://www.obd2tool.com/blog/2019/12/24/autel-maxisys-elite-diagnostic-scanner-faqs/