Changhe V30.29 IMMO Upgrade on OBDSTAR X300 DP Plus and OBDSTAR X300 Pro 4 and X300 DP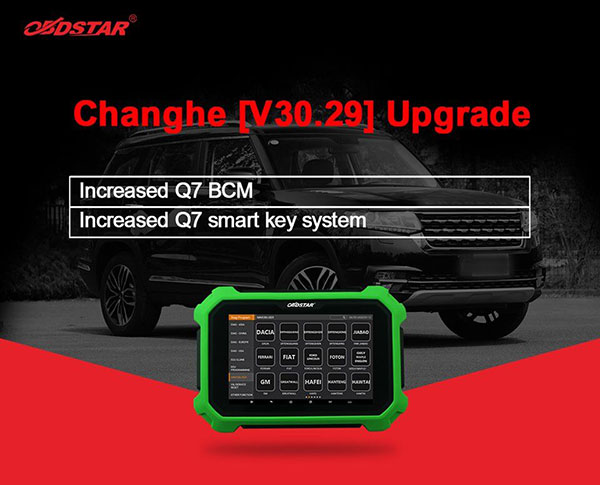 www.obd2tool.com
sales@obd2tool.com
What's App:+86 18003909206
OBDSTAR X300 DP Plus (X300 PAD2/X300 DP II) is a new Android-based vehicle trouble diagnostic device which is characterized by covering a wide range of vehicles, featuring powerful function, and providing a precise result.
Compared with OBDSTAR X300 DP PAD,  it has great improvements in both hardware and software. Please keep reading to find out more.
X300 DP Plus Hardware Advantages:
1. Built-in VCI box, communication more stable
2. 8-inch touchscreen, more intuitionistic
3. Can be charged directly via OBD interface
4. Practical and high-end gift box
5. Industrial design with silicone case
6. Back bracket design:Can prop on the steering wheel or stand on the table, easier to operate
7. With 4 Toyota simulation keys (the fifth is coming soon)
8. 3 in 1, P001 programmer: combined with EEPROM adapter + RFID adapter+ Key Renew adapter
9. Add the clip of reading SOP 8PIN EEPROM
10. Add wiring harness of ECU reading by OBD (for ECU cloning and switch activation)
X300 DP Plus Software Advantages:
1. ECU Clone
1) ECU Clone, means ECU duplication.
The device copies all the data from the original vehicle ECU, and then writes all data copied into ECU with the same hardware to realize the same ECU function with the original vehicle.
2) Clone directly when replacing a new or a used ECU!
Without online matching in 4S store or removal of ECU bonding wire for reading and writing! Directly write without dismantling OBD!
3) Three features for ECU Clone:
A. Free of 4S online: break monopoly from 4S, benefiting automobile maintenance industry
B. Simplified operation procedures: realize foolproof operation
C. Non-dismantling with zero risks: read and write data without dismantling ECU
2. Switch activation function
(Today many instruments or audio of vehicles activate secondary power supply to go into power-on status by relevant module CAN communication on the vehicle, but sometimes an instrument or an audio is separated from vehicle CANBUS network, causing startup failure when it needs to be repaired by an auto technician. This function can simulate CAN communication to activate secondary power supply, so the instrument or the audio enters into power-on status. In this way, it not only can test and verify the instrument or the audio, but also save an enormous cost for an auto technician to purchase a large number of startup platforms of various vehicles and wiring harnesses!)
3. Add "Help" functions
Including built-in testable vehicle models, upgrade announcement, features, help notes and wiring diagrams, etc.
4. Carlist:
Can directly get on the device
5. Upgrade Announcement:
All details are available on the device
6. Customers can look up the features or uniquely support functions on the device
7. Help notes:
Built-in help notes for each model or function
8. Wiring diagrams:
Built-in ECU wiring diagrams, more intuitionistic and convenient
OBDSTAR Scanner X300 PAD2 Diagnostic functions:
1. Diagnose the electronic control system of prevailing vehicle models covering Asian, European, American and Chinese. Diagnosis functions include: Read DTCS, Clear DTCS, Read data stream, Special functions etc.
2. Classify special function: ABS, EEPROM Adapter, Battery match, CVT learning, EPB, Gear learning, Immobilizer, TPMS (low tire) reset, Cluster calibrate, ECU programming, steering angle reset.
3. Specially designed for Android platform with clear and user-friendly interface;
Diagnostic software Main interface Display:
Today we share the difference between Lonsdor K518ISE and OBDSTAR X300 DP (key master DP)
vehicle coverage
obdstar X300 DP (key master DP) feedback: I have the Key Master and its Ok works 50% of the time and the rest it fails to communicate.
Lonsdor K518ISE Key programmer vehicle coverage has no feedback yet, this one looks interesting but only time will tell. From what you've read, you will find this Lonsdor k518ISE is a little better than AVDI for a lot less the money. It is also twice the money of OBDStar X300 DP and Xtool tablets.
It claims to work on Volvo, LR, BMW FEM and CAS4, VAG IMMO5, etc…
There are some videos on the most used European cars from Ford, PSA, Fiat, Opel, VAG, Renault…as well as American cars, Asian cars etc, judging from CI600 reputation K518ISE should work.
Lonsdor K518ISE video channel:
http://www.obd2tool.com/goods-6954-Lonsdor+K518ISE+Key+Programmer.html
Price
obdstar X300 DP (key master DP) price: more than $800 and less than $900 (google search you will find)
Lonsdor K518ISE Key programmer price: about $1200 for the first batch of 500pcs.
Conclusion:
So if you want to cover more cars you should choose  k518ise.
OBDStar doesn't seem to offer an adequate alternative for the Android tablet products.