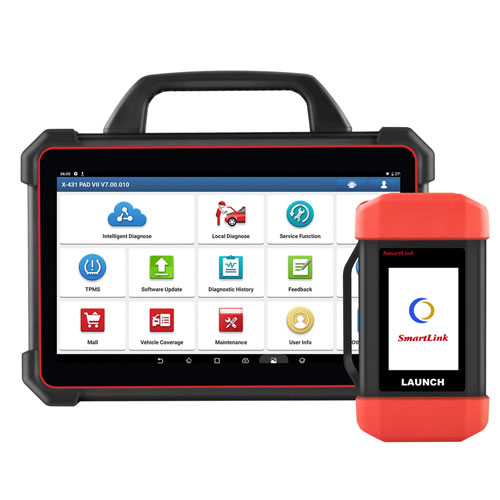 Both Launch X431 PAD VII and Autel MaxiIM 608 Pro are high-end devices built for professionals. If you find yourself weighing between the two, you'll want to know that Launch offers a more user-friendly gadget. The PAD VII has a much bigger screen which makes interpreting the results fast and easy.
Both scanners can use a J2534 pass-thru programming device. However, Launch X431 PAD VII allows you to add seven modules to improve functionality. It can also perform ECU programming out of the box. That's unlike the Autel model that needs to pair with the J2534 ECU VCI.
The Launch X431 PAD VII runs on a 19000mAh battery, while the Autel MaxiIM 608 pro has a 15000mAH battery. You'll get more juice out of the PAD VII than the IM608 Pro.
One thing worth noticing is Launch X431 PAD VII provides users with the option to purchase additional software in "Mall" in their app, includes heavy duty, Tesla software, etc while IM608 Pro does not.
PAD 7 has full ADAS capability while im608pro has limited capabilities for ADAS.
Therefore, if you want a flexible device where you can add functions as you like, Launch X431 PAD VII is our recommended diagnostics tool.
x431-pad-vii.jpg
 
Launch X431 Pad VII

Autel MaxiIM 608 Pro
Product Dimensions
13.89 x 9.29 x 2.79 inches
11.87 x 8.66 x 1.97 inches
Item Weight
29.76 pounds
15.47 pounds
Screen Size
13.3 inches (1920 x 1080 pixels)
10.1 inches (1920 x 1200 pixels)
OBD2 Diagnostics
Full
Full
System Diagnostics
All systems
All systems
Advanced Service Functions (Special Functions, Reset Functions)
30 + advanced service functionsReset & Relearn Services

TPMS

ADAS Calibration Function

Injector Coding

Coolant Bleed

Tire Reset

AIF Reset

Nox Sensor Reset

Electronic Throttle Relearn

8 Extended Module Functions

31 Advanced Service FunctionsOil Service Reset

Parking Brake Pad Relearn

Battery Registration and Reset

Active tests

Crankshaft Position Variation

TPMS etc.

Coding/Programming
Yes (Advanced Coding and Programming).Online programming for select vehicles without online account (Benz, BMW, Audi, Skoda, Seat, Porsche, Nissan/Infinity, etc and keep updating more vehicles).
Yes (advanced ECU coding and programming with J2534 device).Does not have built-in BMW and Mercedes online programming.
Vehicle Coverage
Full system vehicle coverage for domestic and imported cars, medium & light-duty vehicles (110 brands).Optional heavy-duty vehicles diagnosis.
95% of all 1996-2021 cars, SUVs, and light trucks. Including OEM diagnostics for Chrysler/Dodge/Jeep.