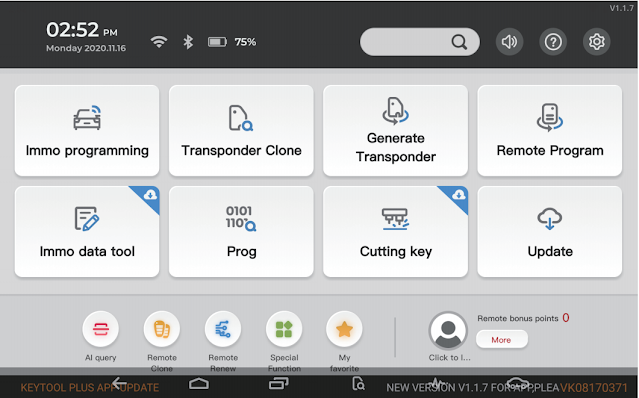 VVDI Key Tool Plus Highlight:
Global advanced version and full configuration
Combines functions of VVDI2, VVDI MB, Key Tool Max, VVDI BIM, VVDI PROG and VAG OBD Helper with the ability to expand the capabilities as needed.   It's available to control the key cutting machines developed by Xhorse.
Multi-Language: Chinese, English, Thai, French, Polish, Hindi (more language will be developed in the feature)
VVDI Key Tool Plus bind with Xhorse key cutting machine to get free BGA token everyday.  ID48 and read MB Key password online will need token, but both can read xhorse bonus points.
Free Update Online
1 Year warranty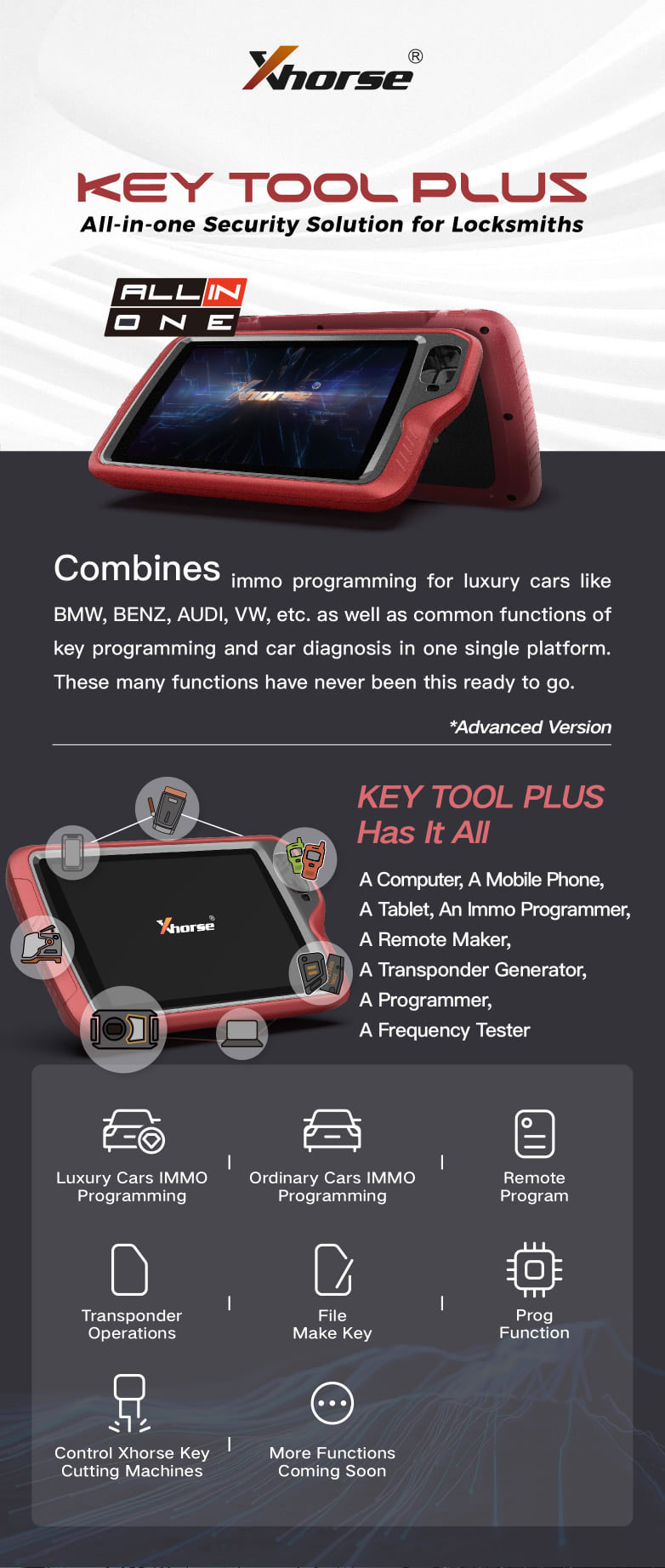 VVDI KEY TOOL PLUS PAD Basic Functions:
Generate Remotes and Smart keys
Renew (unlock) remotes
Remotes clone
Program and Immo Transponder
IC/ID Clone
Frequency Detection
Transponder detection, clone, and generating
Support for Jaguar, Land Rover, Porsche, Volvo, Mitsubishi, and others
Service light reset
Key cutting machine control
Common vehicle IMMO programming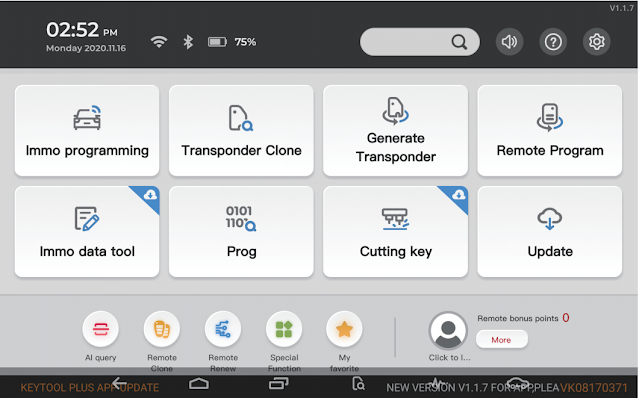 Other Features:
DOIP
CAN-FD
CAN and K protocol switch pin
Chip pin detection
Toyota Smart key programming without simulator
Long-distance IMMO collection
Built-in OBD matrix switch
Radiofrequency simulator
Smart key simulator
Integrated key identification coil
BENZ infrared reading head
Xhorse Key Tool Plus Pad Newest Update: Support VVDI VW 5C (MQB478)
WE MAKE IT FIT FOR MORE LUXURY CAR BRANDS
Support IMMO programming on luxury car brands – Benz, BMW, Audi, VW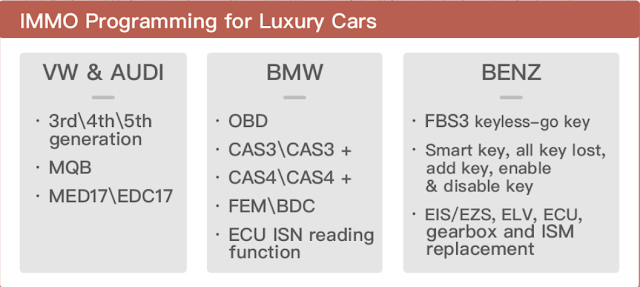 VW & Audi:
3rd / 4th / 5th generation
MQB
MED17/EDC17
KEY TOOL PLUS provides users with functions including key programming, key learning, ECU coding/ adaption/ replacing, diagnostic function, etc. to best resolve most problems they met in immo programming for Volkswagen and
AUDI cars.
BMW IMMO Programming
CAS3/CAS3+
CAS4/CAS4+
FEM/BDC
ECU ISN Reading Function
KEY TOOL PLUS can achieve BMW CAS1/ CAS2 /CAS3 /CAS3+ /CAS4 /CAS4+ OBD key learning, FEM/BDC key programming, File Make Key, ECU ISN reading, ECU and CAS synchronization, etc. Getting work done has never been easier.
and common car brands – Toyota, Honda, Mazda, Ford, etc.
KEY TOOL PLUS supports over 20,000 car models worldwide. We can select the car brands and car models on the immo programming interface. On this smart platform, we can easily find the car models we need by brand area, brand name, and A-Z word search.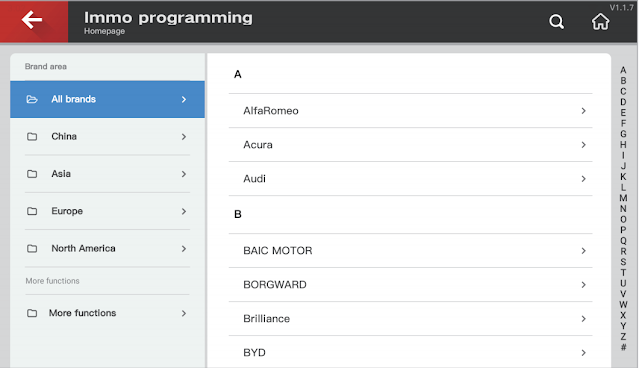 WE INCORPORATE PROG FUNCTION
Key Tool Plus is designed with Prog function, which can work as a solder-free programmer,  directly reading and writing common modules and chips for plently pof car models. Xhorse is the first to offer this tergrated solution.
KEY TOOL PLUS supports reading and writing common modules and chips. It covers "EEPROM and FLASH", "IMMO", "Instrument", "Airbag", and "ECU", etc.
Supported EEPROM and FLASH
ATMEL
Mitsubishi
Winbond
Catalyst
ST
XICOR
Microchip
SEIKO
WHAT WE CAN COMPLETE BY PROG FUNCTION ON KEY TOOL PLUS?
Support EEPROM reading and writing: support reading & writing most types of transponders in the market.
Support BMW immo module programming covering CAS3, CAS3+, CAS4, CAS4+, BDC, FRM, and FEM.
Support Land Rover RFA module reading and immo programming.
Support Porsche BCM programming.
Support read ECU with CAN on AUDI, BMW, and VOLKSWAGEN.
Support Instrument programming on HONDA, KIA, and HYUNDAI.
IMMO DATA TOOL (FILE MAKE KEY)
For some cars, key programming and other settings can't be finished via OBDII. KEY TOOL PLUS gives amazing strength to solve the dilemma by delivering File Make Key function which can be used to add keys for them. This
very function features generating transponder via reading related transponder data of the car immo module directly.
[ File make key, to generate a car key via a data file. Users need to use the specific device to read the immo data, and generate a boot transponder to directly start the car, no need to match the original car.(Users may need to rewrite the data to the immo box when doing the programming process on some car models.) ]
Xhorse
MXIC
Toshiba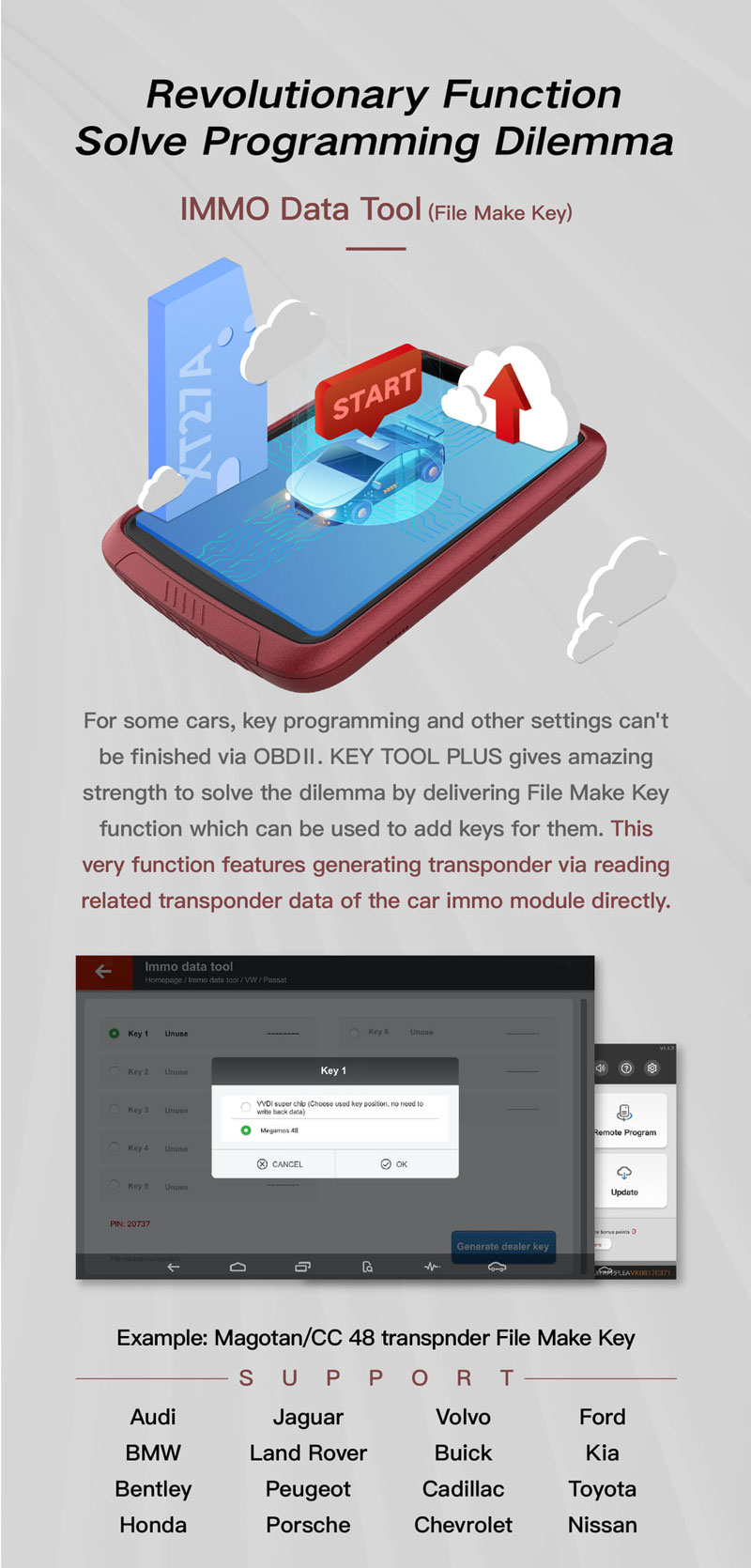 WE "LIBERATE" YOUR APPLICATION PROGRAM INTERFACE
【CONTROL KEY CUTTING MACHINES DEVELOPED BY XHORSE】
KEY TOOL PLUS is available to control the key cutting machines(CONDOR, DOLPHIN, and PANDA), to perfectly work as an operation screen. By using KEY TOOL PLUS, completely free your mobile phones.
CONTROL-KEY-CUTTING-MACHINES-DEVELOPED-BY-XHORSE
The Most Comprehensive Database of Vehicles Ever
Transponders
ID46 online calculation
ID48 (96 bit) online calculation
Toyota H(8A) online calculation
Transponder generation and cloning of over 850 car models
Special transponders and special cars and old car models
Remotes
Support remote generation, smart key generation, frequency detection, remote clone for a variety of car models
HCS/fix code clone, non-HCS rolling code clone, fix code editing
PT22XX, LX918, HT6P20, VD5026, AX5326, HT12X fix code editing
PAREMETERS
CPU: 8-core 2GHz
RAM+ROM: 4G+128G
Operation System: Android 9.0
Screen Size: 10.1″ HD Anti-glare; Anti-fingerprint. Super 10.1″ anti-glare display enables top operation experience.
Rear HD Camera: 13.0MP. The 13MP rear camera is designed to fit in multiple scenarios perfectly.
Battery Capacity: 10000mAh. Long battery life and PD3.0 fast charge help keep you productive throughout your day.
Charging: 30W Super Fast Charge
Bluetooth: 5.0 Bluetooth
WIFI: 2.4G/5G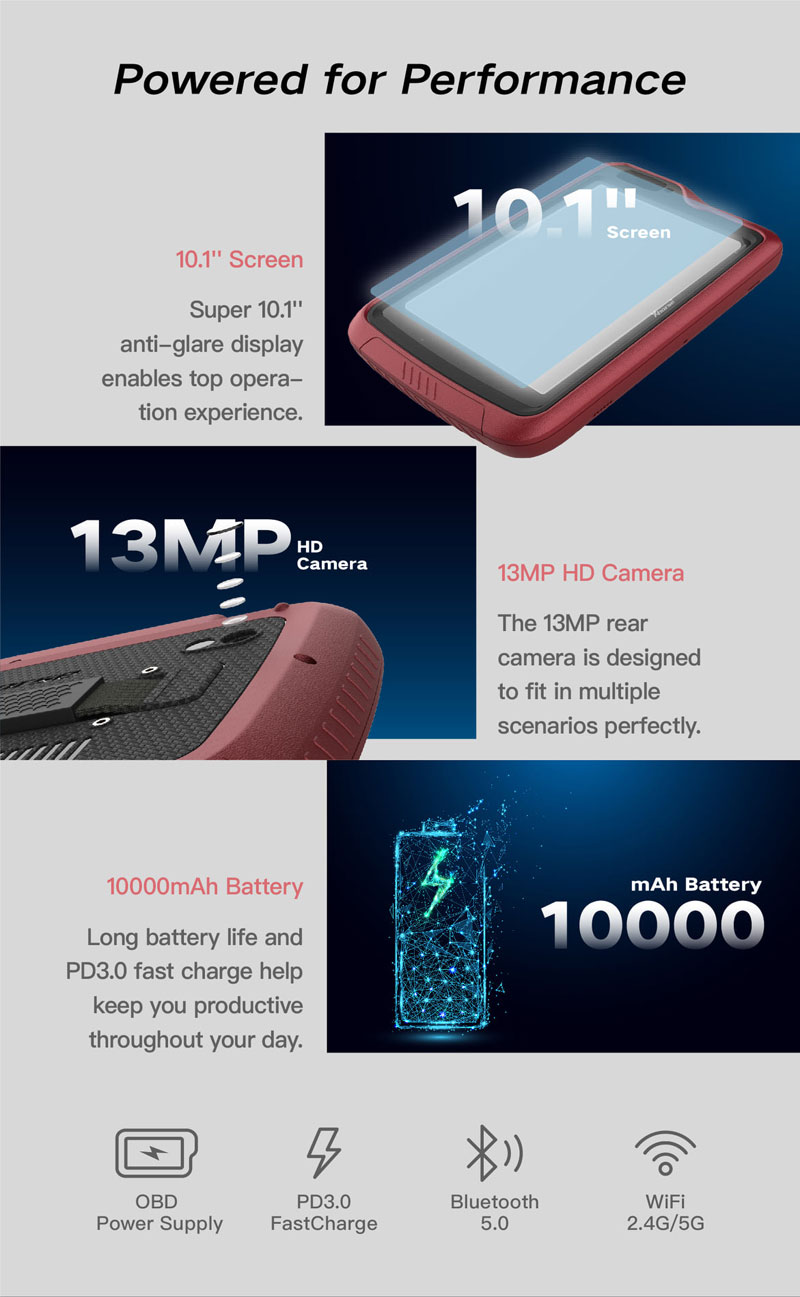 ADVANCED PROCESSOR
4xCortex-A53 up to 2.3Ghz
4xCortex-A53 up to 1.8Ghz
Memory 4G+ Storage 128G
Resolution up to FHD+ (2,400*1,080)
NAME OF PORTS
Light sensor: detect the brightness in the surrounding environment
Detection coil (including 125K low, 13.56M Medium, 300-900M high frequency)
Support reading, writing, and cloning common immo transponders
Support reading common ID transponders
Support reading common IC transponders
Support frequency detection of common vehicle remotes
Immo transponder placement hole for vehicle immo transponders
USB charging port: support standard fast charge adapter and standard Type-C port DC-5V input.
PS2 port for remote programming
DB15 port: support standard & optional programming adapters with DB15 port
DB25 port for OBD matching
Benz Infrared (IR) port: support IR read Benz FBS3 & FBS4 smart key and support Benz IR reader
Key Tool Plus Full Package List:
KEY TOOL PLUS
User Manual
Certification and warranty card
Charger
USB3.0 TYPE-C cable
OBD_DB25 cable
OBD_KlA_10 connector
OBD_KIA_20 connector
0BD Honda 3 connector
Remote_PS2 programming cable
Transponder box
Prog_DBI5_15 cable
Prog EEPROM adapter
Benz IR adapter
Benz NEC1 adapter
Benz NEC2 adapter
Benz NEC3 adapter
Benz power adapter
9S12xE cable
MCU cable