I am looking to buy a good diagnostic tool for bmw, my question is:
which is the best, bmw icom or ICOM Next and why please? also important question is, if i buy icom next is needed to buy icom P for programming newer cars? as i see if buy bmw icom, should to buy also icom p, but i don't know for icom next.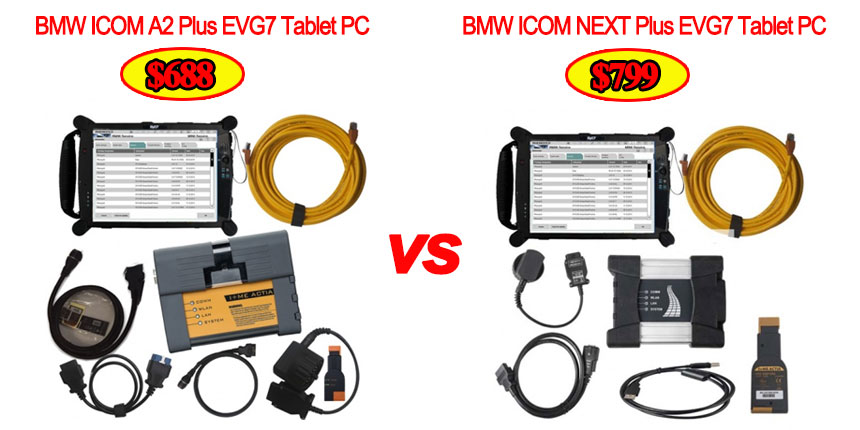 Improved Functionality and Performance:
1. Gbit workshop LAN,backwards compatible
2. Preparation for Gbit LAN on vehicle OBD(cars do not yet supportthis and interface not yet defined,ICOM Next hardware adaptation will be necessary for future Gbit car interface,will cause adaptation costs)
3. Faster start-up times and high throughput
4. Through high-performance,low-power ARM SoCBMW ICOM NEXT A+B+C QC MARK
5. Improved handling
6. More flexible OBD cable
7. Lighted button for logs etc
BMW ICOM NEXT A+B+C Diadnostic Head Overview?
Functionally compatible to ICOM A2
Mechanical design similar ICOM A2
Backwards compatible to car adapters (ICOM B, C) and motorcycle adapters (ICOM D, E)
BMW ICOM NEXT A+B+C Specifications:
Zeroization of data on tamper detection
Secure supply chain assurance
Key storage using physically un-clonable function
CRI Pass-Through DPA Patent Portfolio
Advanced cryptographic Services
If you use BMW ICOM Next V2018.09 , it is better if you have computer as below:
1pc x BMW ICOM A2 Interface
1pc x BMW ICOM B Most
1pc x BMW 20pin Cable
1pc x USB Cable
1pc x OBD2 Cable
1pc x LAN Cable
1pc x NEW EVG7 DL46/HDD500GB/DDR4GB Diagnostic Controller Tablet PC