Install the ICarScan VCI EZdiag APP, and when it is running, prompt: APP EZdiag stopped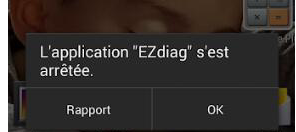 This is usually because the phone's operating system is not compatible with the icarscan APP.
Customers need to provide:
For App versions, box Numbers, phone models and android versions, it's best to record a video to locate the problem
According to the information provided by the customer, we will modify our APP to be compatible with the customer's mobile system.
If you have more questions about LAUNCH ICARSCAN, please contact our sales <sales@obd2tool.com > , our website
OBD2TOOL All rights reserved this article.