SKP900 Auto Key Programmer is a very popular product to program universal car keys. And People also have few questions about it, Obd2tool.com sorts out the frequently asked SKP-900 questions. If you have any problem about it, you can write skp-900 reviews.
1.LCD Screen
Original SKP900 car key programmer uses top quality high-resolution LCD display while the clone augocom uses worse quality screen.
2.Operating Speed
Original SKP900 runs faster than the clone; it takes about 10 seconds to load vehicle key programming software while the clone runs very slow and sometimes jump to the main menu list directly.
3.Weight
Original SKP900 weighs heavy than the clone.
4.Main Menu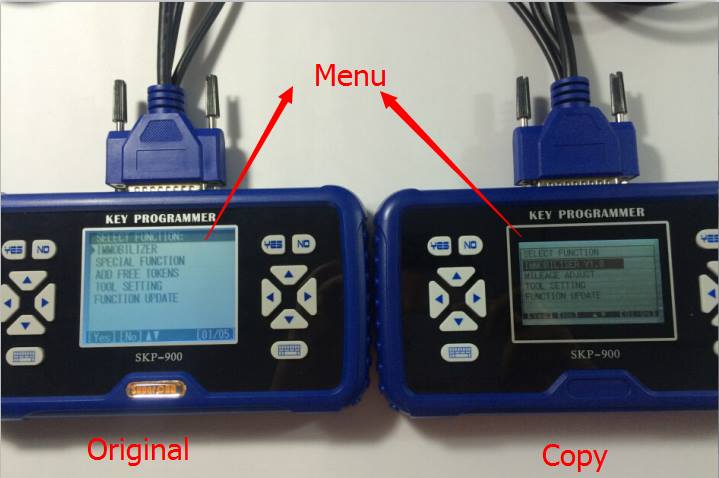 5. Vehicle Support
Original SKP900 covers most mainstream Asia,Europe and USA car makes while clone covers mostly Chinese car models.
Top features of the new MB SD C5
1.Support wifi
2.Supported Multi-Language: English/Bulgarian/Danish/Greek/Spanish/French/ltalian/Korean/Polish /Romanuan/Serbo-Croatian/Turkish/Czech/German/Finish/Hyngarian/Japanese/Dutch/Portuguese/Russian/Swedish/Chinese
3.Supports Mercedes Benz Cars & Trucks 2000 up
4.Supports Offline and Online Programming, If you want to do Online programming, you need to order the Online SCN Coding Service
The difference between the new MB SD Connect C5 and SDConnect 4
MB SD Connect Compact 5 performs the same function as MB SD Connect C4 with newer design. The new MB SD Connect C5 has the same case with original Xentry Connect 5 multiplexer Other features are exactly the same as MB SD C4. The new MB SD Connect 5 is cheaper in price than MB SD C4.