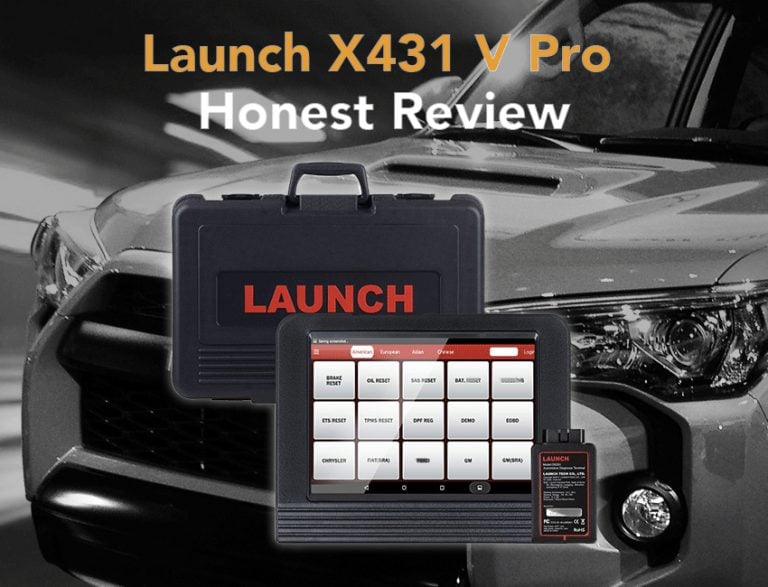 Launch X431 Pro is an excellent diagnostic tool for professionals.
With Launch X431 V+, you can perform advanced tasks such as ECU coding, SAS, DPF, key programming, TPMS, and ABS bleeding. It's rare to see a diagnostic scanner offer such a wide variety of functions.
It allows you to study various vehicle systems including the ABS, SRS, engine, and transmission. It also lets you read and remove trouble codes. This becomes easier thanks to the wide DTC library.
Launch X431 V Pro is excellent at diagnosing your car in real-time. It can help you save time and money.
Let's dive deeper and learn what this advanced diagnostic tablet scanner can do:
Launch X431 Pro (X431 V) Detailed Review
Launch X431 V 8 inch offers a wide range of advanced features. It pretty much covers all the major systems, making it a complete solution to ensure your vehicle stays fit and running.
Full System Diagnosis (With 11 special functions):
Injector Coding: This feature allows you to program the ECU to have injection control.
DPF: It allows you to check for issues (soot, smoke) in the diesel particulate filter.
EPB: The system ensures your vehicle remains steady on grades and flat terrains. It's an important system for the safety of your vehicle and Launch X431 V can help you keep it checked.
Throttle Position: You can adjust the throttle position with this beauty. It will come in handy after you replace the ECU, place a new accelerator pedal, install a battery, etc.
Oil Reset: It can read oil reset light to ensure you know when it is time to for a replacement.
ABS Bleeding: You will need this feature if air gets inside. This is a normal occurrence as every time the system is opened to replace components like wheel cylinders, brake lines, calipers, the air may find its way inside.
This feature lets you release air that's trapped inside. It's a necessary step because it can intervene with the system.
SAS: It lets you adjust the steering angle sensor. This is an important feature as issues with the SAS can lead to major damages.
IMMO (Key Programming): With this feature, you can prevent your car from being hotwired.
TPMS/TPS: This tablet scanner can diagnose tires and see that they have the right amount of pressure. You can also reset the tire pressure system using this tool.
Battery Register/Maintain: The scanner allows you to reset and match a new battery. The function is quite easy and requires no complex knowledge.
ECU Coding: It allows you to alter configurations when you replace the ECU.
Actuator Test And Bidirectional Control
Actuator Testing
With Launch X431 V, you can find faults in the subsystems of your car by testing various components individually.
It works by entering commands into the ECU. The test is quick and you will not have to wait to see results. Moreover, it can also help keep tabs on various operations occurring in the actuator.
Bidirectional Features
Launch X431 Pro lets you perform bidirectional testing as well. This feature lets you send and receive information between two devices.
Said to be more suitable for professionals, this feature allows users to command a module to perform a specific function such as gear learning.
Full OBDII Functions
Engine Codes: You can use it to read and clear trouble codes, perform diagnostics remotely. It also has a high-quality camera to click photos.
Live Data: The scanner is able to generate vehicle health report and live data on the go.
Apart from that, it's a waterproof scanner that'll run for about 9 hours.
DTC: The library provides detailed explanations of engine codes to help you understand and resolve problems.
Freeze Frame: Stores emission related faults in the memory.
Active Test, Matching, and Adaptation
Launch X431 Pro can conduct active tests, i.e: take actions when performing diagnostic functions.
With this scanner, you'll be able to match and reprogram keys.
Launch X431 Pro can read and change adaptation values.
Warranty & Remote Support
Put all your worries to rest as it comes with a long warranty that'll give you peace of mind.
With every purchase, you will enjoy:
A 5-year warranty
24-hour technical support
A 60-day return policy.
This feature is one of the highlights of the unit. It allows you to send data to Launch experts who are quick to respond with solutions.
Software, Update, and Connection
The tablet runs on Android 7.1 and makes a connection by using Bluetooth 4.0 technology.
The tablet offers a one-click update. You can visit the official Launch website and download updates for free for up to 2 years. It will cost you £450.00 ex VAT (for the first year) to update the software once the free package expires. The company currently offers a discount when you purchase updates for 2 years (£690.00 ex VAT).
USD: $584 and $896. Note: USD rates may differ due to currency fluctuations.
Vehicle Coverage and Connection
OBDII Coverage
It covers 94 brands including Asian, European, American and Chinese models.
This scanner supports 1000+ OBD2 vehicles.
Some of the most popular cars it covers include Ford, Lincoln, GM, BMW, VW, SKODA, and AUDI.
OBD-I Coverage
The tablet, in fact, supports some OBD1 vehicles, too. It supports 91 and 92 Ford and some 90's Toyota models.
You can connect the USB-like scanner wirelessly without any issues. The connection is reliable and does not break.